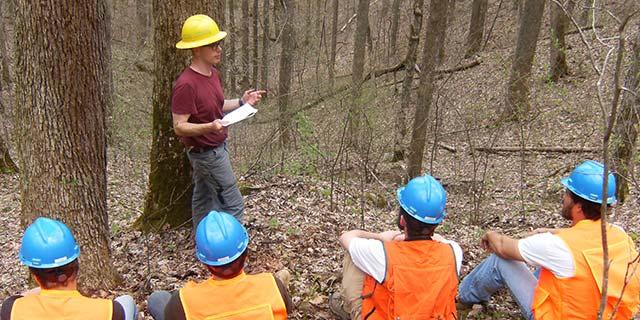 What You'll Study
Our classes cover topics like forestry, wildlife, water, fire, forest economics, forest products, and GIS/GPS. We teach land-management techniques using the latest technologies and because many of our classes are actually conducted outdoors, our motto is "small classes, BIG classrooms".
A forestry degree will prepare you to work with a diversity of landowners, agencies, wildlife, and a wide range of forest industries to help manage the benefits of and threats to forests throughout the region. As a forestry major, you will learn:
how a forestry degree is an effective background for managing forests and a wide range of natural resources

wildlife and watershed management

how to enhance the health and integrity of our forests

forest policy and ways to address complex socioeconomic issues involved with practicing forestry

fundamental forestry concepts such as dendrology, ecology, silviculture, and forest measurements
Grow Your Future
Our students come from all across Kentucky, as well as other states throughout the region, but one thing that unites them is a love for the outdoors. Whether they like to hunt and fish or simply hike in the woods, our students have found a place they can get a college degree that will lead to many different outdoor careers, and pursue their passion at the same time.
How can we help? 
If you have questions about the UK Forestry program or would like to schedule a visit, let us know.
Contact Laura Lhotka, Forestry Academic Coordinator 859-257-8718, laura.lhotka@uky.edu.