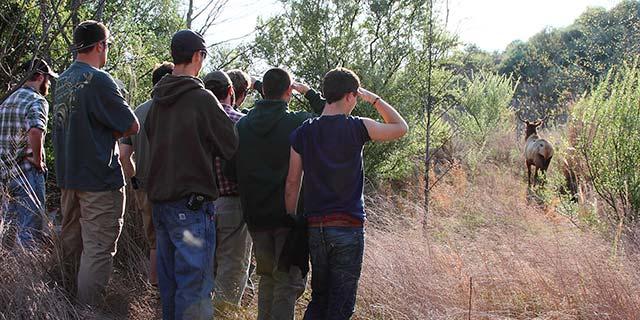 What is a wildlife forester?
A wildlife forester has the skills to manage wildlife and their forested habitats. UK students with an interest in both forestry and wildlife studies have the opportunity to combine these exciting outdoor career paths. For most students, adding one or two semesters to our accredited professional forestry program provides the courses necessary to meet the minimum requirements for the Associate Wildlife Biologist Certification by The Wildlife Society (TWS).
If a student is interested in becoming a wildlife forester, it is important that students work closely with the wildlife advisor when they enter the forestry program to map out a series of courses to accomplish the TWS requirements. Learn more about The Wildlife Society Associate Wildlife Biologist Certification.
Why become a wildlife forester?
In the increasingly integrated and connected world of natural resource management, coupling TWS certification with a forestry degree puts graduates at a competitive advantage for forestry jobs and provides the minimum qualifications for state and federal wildlife agency jobs. Wildlife and fisheries-related activities contribute an estimated $4.5 billion dollars to Kentucky's economy.
Many agencies and organizations provide wildlife-related services to the Commonwealth, including The National Park Service, U.S. Fish and Wildlife Services, U.S. Geological Survey, U.S. Dept. of Agriculture, Office of Surface Mining, U.S. Forest Service, KY Dept. of Fish and Wildlife Resources, KY State Parks, KY Division of Forestry, KY State Nature Preserves Commission, university faculty and staff, local government staff, private outfitters, non-governmental organizations, and various consulting or other for-hire companies. These entities require graduates well-trained in the wildlife sciences and knowledge of forested habitats.
How does a UK forestry student become a wildlife forester?
Students working towards their Bachelor of Science in Forestry at the University of Kentucky can take a series of additional courses to qualify them for the Associate Wildlife Biologist Certification by The Wildlife Society (TWS). The Wildlife Society has detailed guidelines on the Program for Certification of Professional Wildlife Biologists. The requirements specify a series of coursework in the biological sciences; physical sciences; quantitative sciences; humanities and social sciences; communication; and policy, administration, and law. 
By working closely with the wildlife advisor, students can map out a series of carefully planned UK Core courses and electives to accomplish the TWS requirements. While the UK Forestry and Natural Resources Department can help students determine a curricular path to meet the certification requirements, the application and certification process is up to the individual student. Students will need to work directly with The Wildlife Society for Associate Wildlife Biologist Certification program to apply for certification.
How can we help? 
If you have questions about the UK Forestry program or would like to schedule a visit, let us know.
Contact Laura Lhotka, Forestry Academic Coordinator 859-257-8718, laura.lhotka@uky.edu.