Forestry Alumni Scholarship
Forestry Alumni Scholarship
The Forestry Alumni Scholarship is in honor of all Forestry graduates from the University of Kentucky. The fund is progressing toward endowment status and will provide a forestry student approximately $1,000 every year once it reaches this mark. All donations, large and small, are encouraged. If you need additional information on the Forestry Alumni Scholarship, contact Jeff Stringer.
If you would like to give online, visit the University of Kentucky Online Giving website. In the Fund Designation section, select 'Other' and then list the fund name as "Forestry Alumni Scholarship Fund".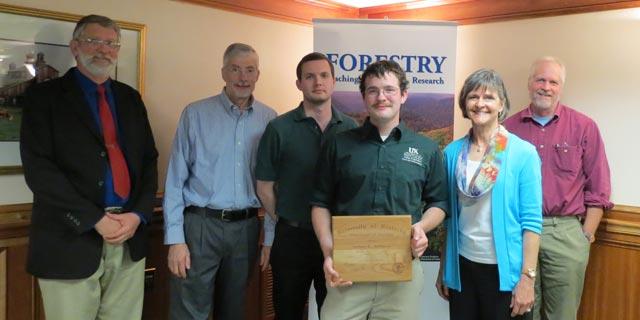 To learn more about the various ways to give, including information on the employer matching gift program, visit the College of Agriculture, Food and Environment Office for Advancement website on How to Give. If you have any questions about the scholarships or how to make a gift, please contact Marci Hicks, Director of Development, at 859-257-7200 or marci.hicks@uky.edu.
Special message to alumni from Kate (Hutcherson) Robie ('76):
I am pleased to announce the Forestry Alumni Scholarship Committee awarded the first annual Forestry Alumni Scholarship at the Department's Spring Recognition Dinner on April 30, 2015. It was awarded to Josh Robinson, a rising senior from Elizabethtown, Kentucky. Josh was selected from a field of six excellent candidates.
While we were delighted to award $1,000 this year, we still have a ways to go to reach our goal of $25,000 to become an endowed (perpetual) scholarship. If you haven't contributed yet, or if you can make a follow-up donation, won't you please do so now? Don't be shy if your gift must be small – all donations add up! It's easy to donate using the enclosed form.
I would like to thank the founding Alumni Scholarship Committee members:
Sally Browning ('75)
Al Freeland ('75)
John Redmon ('76)
Jim Ringe ('77)
Mike Shearer ('74)
Gary Wilmhoff ('76)
I'd like to welcome new members Dr. Don Graves, Chris Reeves ('05) and Doug Stephan ('77). If you would like to join the Forestry Alumni Scholarship Committee, please let me know (kate.robie@gmail.com). This is a great way to serve your alma mater and to enjoy reconnecting with the Department!
---- Kate (Hutcherson) Robie ('76)