A Student Chapter of the Society of American Foresters
(UK Forestry Club)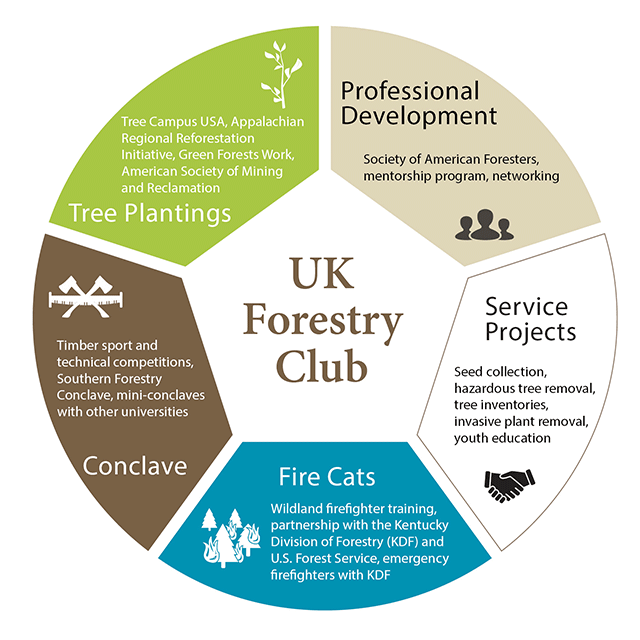 University of Kentucky Student Chapter of the Society of American Foresters 
The University of Kentucky Student Chapter of the Society of American Foresters (SAF), known as the Forestry Club, is a non-profit student organization that is a part the University of Kentucky. This organization is devoted to the advancement of the science, technology, education and practice of forestry among the student body and communities in which we interact. The Forestry Club promotes fellowship and professionalism among the students at the University of Kentucky as well as developing close working relationships with advising faculty and forestry professionals.
Forestry Club Constitution and By-Laws
---
Activities
The Forestry Club promotes participation in SAF sanctioned events, camping trips, club meetings, as well as a multitude of service projects. For example, the Forestry Club actively worked to have the University of Kentucky designated as a Tree Campus USA by The Arbor Day Foundation. The club is actively involved in Appalachian Regional Reforestation Initiative projects, Lexington-Fayette Urban County Government's Reforest the Bluegrass, as well and various other tree planting activities.
---
Association of Southern Forestry Club's (ASFC) Conclave
The Forestry Club also participates in the Association of Southern Forestry Club's (ASFC) Conclave. This event is held annually and is a way for the students to interact with other member chapters and have friendly forestry related competitions. These competitions consist of a range of physical events and technical events. The physical contests include events such as saw and axe skills, archery, and log roll. The technical events tests students' abilities in tree and wildlife identification, timber estimation, as well as compass and pacing skills.
Physical Events - Stihl Timbersports, crosscut, bow saw, archery, axe throw, knife throw, log burling, log roll, pole climb, chain throw, log chop, and pole felling
Technical Events - compass and pacing, dendrology, wildlife ID, wood ID, DBH estimation, photogrammetry, pole classification, and timber estimation
---
Registration and Annual Dues
Members are required to pay annual club dues at the time of joining the club. Club dues consist of $40 (USD) which is for the registration to become a student member of the Kentucky-Tennessee Chapter of SAF. This allows the students to participate in the SAF sanctioned events, ASFC Conclave, and club activities.
Forestry Club Faculty Advisor