It is estimated that 684 million board feet of hardwood logs were harvested in Kentucky during 2019. This harvest volume represents a 50 million board feet decline from 2018 harvesting levels and remains less than half the volume grown. Slow markets, regional weather issues, and uncertainty made 2019 a tough year for many logging operations and sawmills. Overall, statewide delivered log prices decreased by approximately 10.4% for all grades and species combined. The main drivers for this overall trend was a weak domestic market for many species coupled with a softening of the Asian export market. These two factors were off-set by poor weather conditions for logging at the beginning of the year that limited supply during parts of 2019, otherwise the price loss likely would have been more dramatic for some species. Table 2 shows the delivered prices for factory lumber logs of various commercially important species across Kentucky during 2019 and how those prices changed from the first half to the last half of the year.
ASH – Prices for high quality sawlogs decreased 21.7% in 2019 due to decreased export demand that had supported prices over the last several years. Further, secondary degrade caused by ambrosia beetles of trees killed by the emerald ash borer has reduced the abundance of lumber quality standing timber resulting in increased risk associated with stumpage purchases and a decrease in stumpage values.
CHERRY – Cherry logs were subjected to the largest percentage decrease in value across log grades compared to other commercial species in 2019, although occasional local spikes in pricing occurred. Statewide high quality cherry sawlogs decreased in value 25.7%, and medium quality decreased 25%. 
HICKORY – While previous years found favorable prices for hickory, prices dropped 5.6% to 15.1% across log qualities in 2019 with the largest decrease associated with high quality logs. 
MAPLES – Maples in general experienced less of a reduction in prices compared to many species. Hard maple prices decreased through 2019, with a 6.8% price reduction for low quality logs and a larger reduction (12.9 percent) for higher grade logs. Soft maple (typically red maple) logs held relatively well with only a drop of 7.5% for high quality logs, while medium and low quality log prices remaining relatively flat.
RED OAK – Red oak continued to experience significant price decreases that initiated in 2017. An additional loss of 19.3% for high quality logs occurred in 2019. Fortunately, low quality log prices were nearly flat, with a small reduction of 2.4% that corresponded to relatively stable prices in the railroad tie and industrial cant markets, and hardwood flooring to a lesser degree. Much of the red oak pricing drop for higher quality logs was tied directly to decreased demand and pricing from Chinese export markets which is optimistically believed to improve in 2020.
WHITE OAK – Log price continues to remain strong due to the multiple uses and demands for the species across all qualities, with an especially strong demand for high quality stave logs associated with elevated bourbon whiskey production. Periods of dry weather through portions of the state with significant white oak growing stocks coupled with historically relatively high prices resulted in ample supplies of white oak in 2019 and a slight short-term softening of the market with decreased values from 2 to 10%.
BLACK WALNUT – While log pricing overall was down in 2019, high quality logs were off by only 4% from the start of 2019 and prices paid for high quality logs are still historically high resulting in continued sellers' market for this grade and species. Losses were more significant for medium quality 15.9%, and low quality walnut logs dropping 24.7%.
YELLOW-POPLAR – High and medium quality yellow-poplar logs lost between 6-7.4%, but low quality logs dropped more than 10% in value.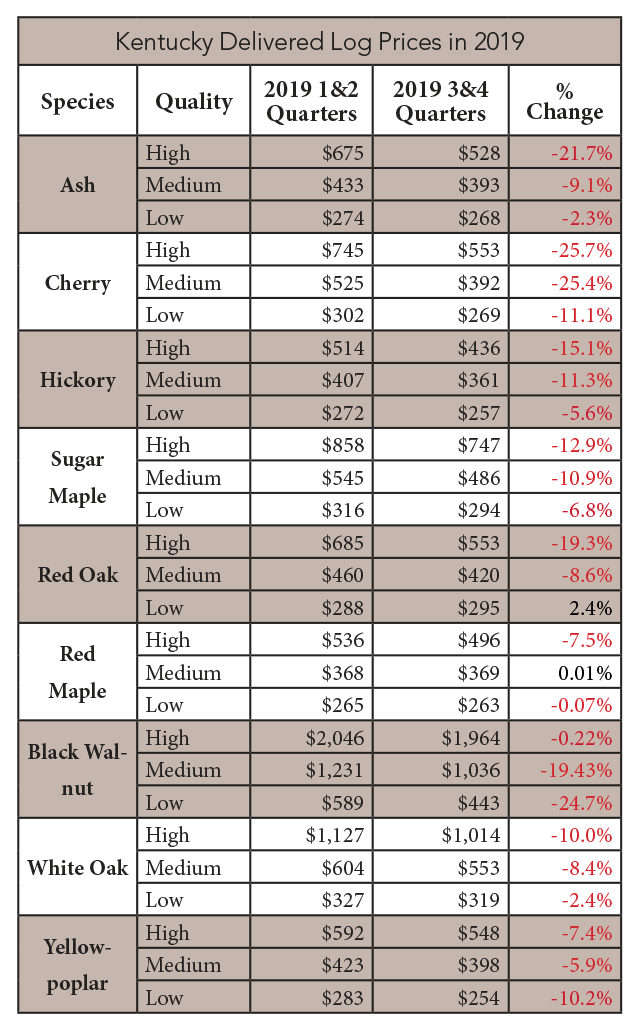 Barrel Stave Logs
Stave logs are generally high quality white oak logs that are used to make barrels for the distilling industry. Competition for these logs continues to grow, increasing the value of high and medium quality white oak logs as well. In order to meet this growing demand a number of new log yards have been established to receive stave logs. All markets are averaging over $1.40/bdft (Figure 6) with some logs worth much less and some worth much more. The market for white oak logs is expected to remain strong in 2020. As mentioned previously, extended dry weather periods in 2019 allowed for stave log inventories to rebuild, causing short term price decreases.
Railroad Tie Logs
Railroad tie logs remain another important timber product in Kentucky. Hardwood railroad tie logs have experienced strong markets over the last year and a half. Statewide, oak tie logs have averaged an 11% increase in value from the end of 2017 to the end of 2019, and non-oak hardwood tie logs have averaged a 10% increase (Figure 7). The statewide average for oak tie logs is $441/MBF, and for non-oak tie logs it is $357/MBF. While there is a strong overall upward trend in prices, there has been significant variation across the state and from month to month. Normal maintenance and replacement of tie logs are ongoing, but an additional five million ties are currently being replaced. Tie log demand and strong pricing are anticipated through 2020 due to increased replacement of railroad ties.