In 2020, Kentucky exported an estimated $276 million in wood-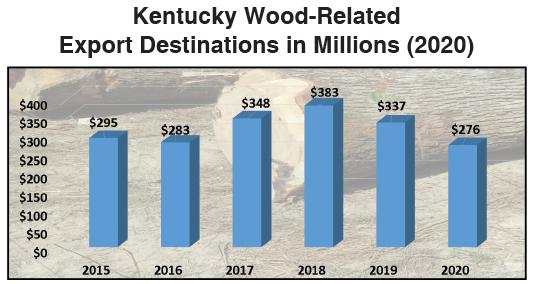 related exports which is a $61 million decrease from 2019. Decreases of $22 million in wood barrels, $18 million in railway ties, $8 million in oak lumber, and $6 million in hardwood lumber account for most of the decreases in Kentucky wood-related exports in 2020.
Despite the reduction in exports, oak trees continue to supply over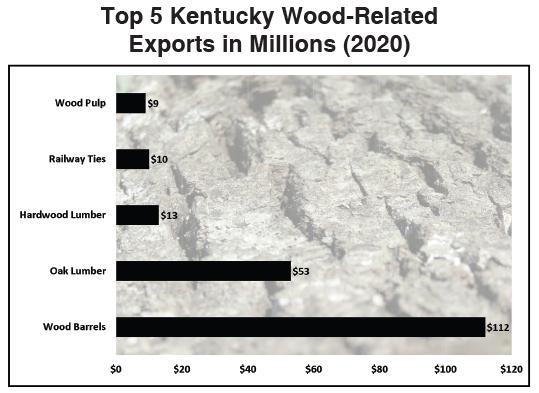 half of the wood exported from the state. The demand for oak barrels softened in 2020 with more than $112 million in exports.
Oak lumber was the second highest export at $53 million which further highlights the overall importance of oak timber supplies to forest sector exports.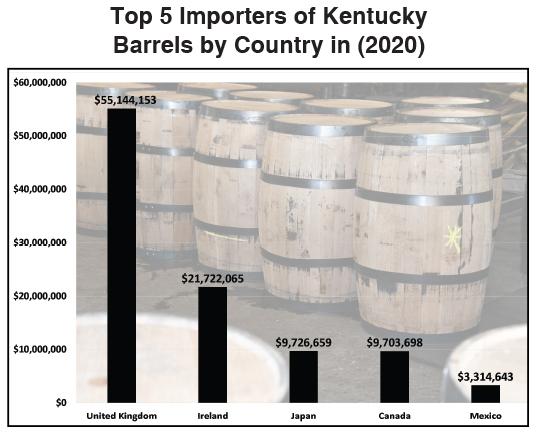 The United Kingdom imported more than $55 million in Kentucky barrels followed by Ireland importing over $21 million, while Japan and Canada imported more than $9 million each. Oak in its various forms remains an important export as well as an important species in domestic consumption and its sustainability is important to Kentucky and surrounding states. Unfortunately, there are challenges to oak sustainability.  To address these challenges the White Oak Initiative (www.whiteoakinitiative.org) is working to support better forest management to ensure availability of oak supply to the forest sector as well as the many ecological benefits oaks provide.
Europe remains the leading destination for Kentucky wood-related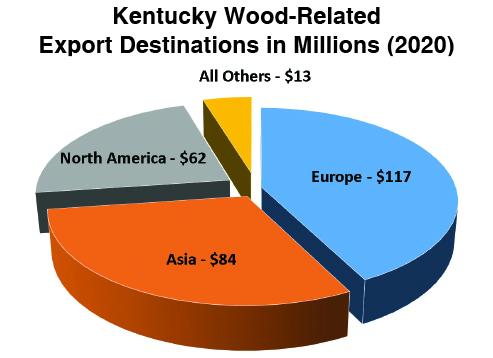 exports in 2020 at more than $117 million. Asia was the second leading destination for Kentucky wood-related exports at $84 million in 2020. North America (Canada and Mexico)  epresented
the third largest importer of Kentucky wood products at $62 million. The rest of the world imported more than $13 million in wood-related products.